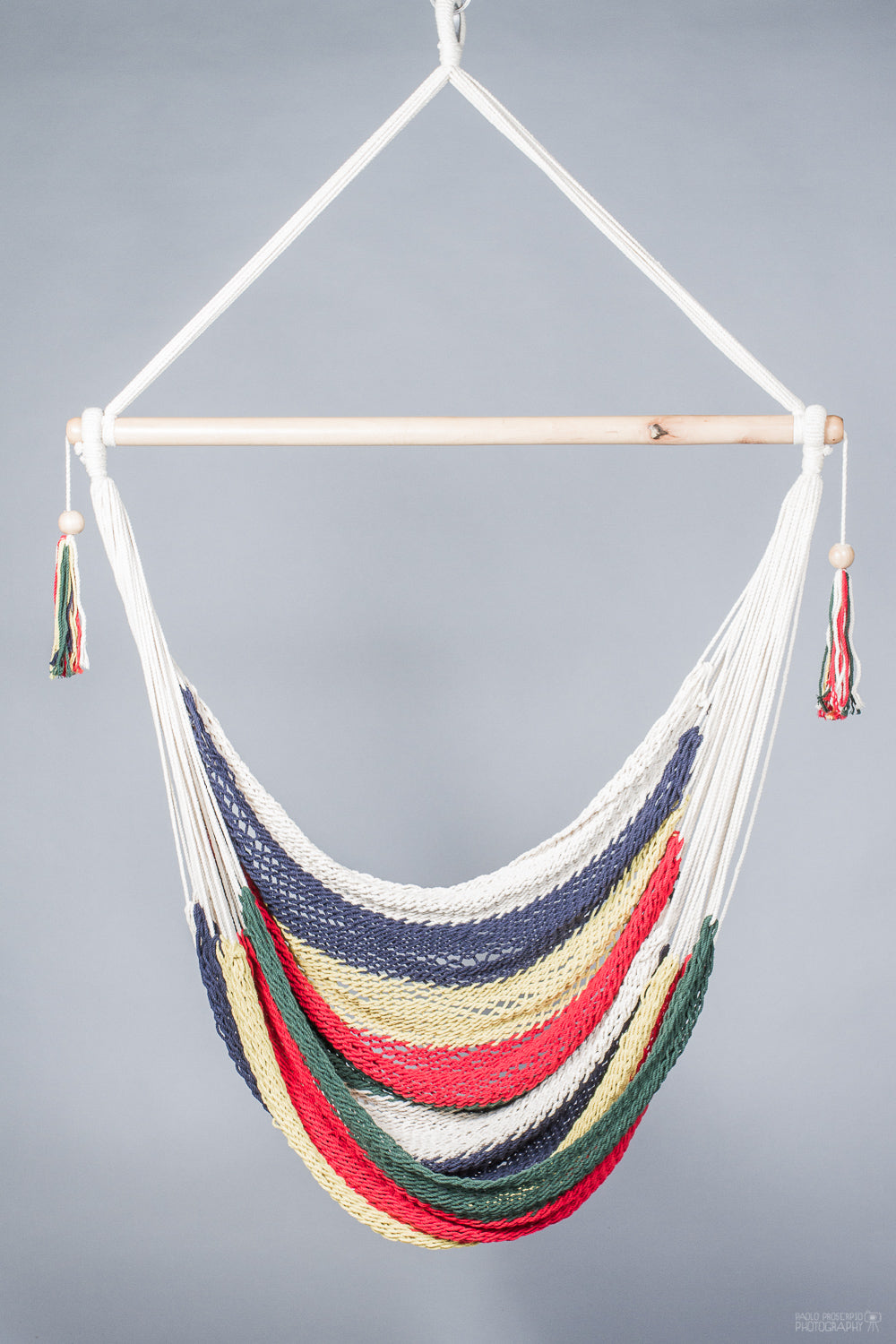 Hammock Chair mod. Maya
Regular price USD 104.00 Sale
The original Caribbean Hammocks with Cloud-like Comfort!
The Nicaraguan Hammock Chair is great just sitting in or just put your feet in and stretch out. The soft cotton makes it comfortable to curl up in the hammock and relax for hours at a time. It's wide enough to sit with your legs in the hammock comfortably.
Perfect for socializing or having a quiet read and able to fit into smaller areas. Outdoor or Indoor. Ideal for inside your home and for terraces, balconies, gardens, patios, backyard and swimming pools.
The design it fits to anyone's home, especially those interested in caribean and bohemian lifestyle design.
MATERIAL
Material: Cotton and Sustainable native wood
Body length 2 m / 6,5 ft
Body wide 1 m / 3,3 ft
Includes the pole
Support weight up to 90 kg
QUALITY
We ensure high quality of work processes to made each Hanging Chair:
- We use 3 pounds (1,4 kg) of cotton for each chair, that's why the whole chair weight 5,3 pounds (2,4 kg)
- Original "Caribbean style" design.
- Spring weave for comfort, flexibility, durability, and breathability
- Hang from a single suspension point (on request 2 hanging points)
- Washable in washing machine
- The cotton threads are HIGH QUALITY:
* for the body are made of 33 cotton wires each one
* for the arms are made of 57 cotton wires each one (for safety reasons)
and very well twisted together.
- Rounded edges
- Handmade carton box to well protect the swing chair and avoid mildew. This is also a more ecological than plastic.
These chairs have a weight carrying capacity up to 140 kg and is for 1 people.
2018 © photos and text are original by Hang A Hammock Collective or other photographer that give us the permission. They are protected by international copyright law. Do not use the photos and text without written permission.